Roasted Pork Loin With Mushroom Gravy
By
Paula Deen
JUMP TO RECIPE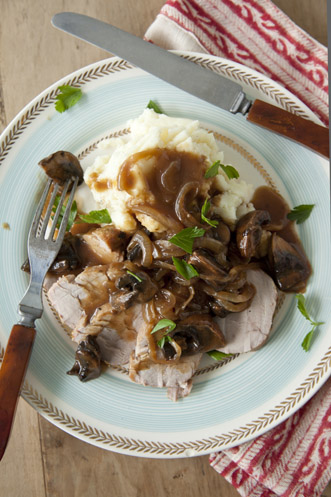 Difficulty: Easy
Prep time: 15 minutes
Cook time: 25 minutes
Servings: 4
Ingredients
1 lb trimmed pork tenderloins (about 2 tenderloins)
salt
freshly ground black pepper
2 tablespoons vegetable oil
1 large onion, thinly sliced
1 (8-oz) package baby portobello mushrooms, quartered
1 package brown gravy mix
fresh rosemary, for garnish
Directions
Preheat the oven to 400 °F. Line a rimmed baking sheet with aluminum foil.
Sprinkle the pork evenly with salt and pepper. In a large nonstick skillet, heat 1 tablespoon oil over medium-high heat. Cook 1 tenderloin until browned, 2 to 3 minutes on each side. Remove the tenderloin and place on the prepared baking sheet and repeat with the remaining tenderloin. Place the baking sheet in the oven and bake the tenderloins until desired degree of doneness is reached, about 10 minutes.
Add the remaining 1 tablespoon oil to the skillet and heat over medium-high heat. Add the onions and mushrooms and cook, stirring constantly, until the vegetables are tender, 4 to 5 minutes.
In a small bowl, combine the gravy mix and 1 1/2 cups cold water, stirring until smooth. Add to the onion mixture and cook, stirring constantly, until the gravy is thickened, about 2 minutes.
Slice the pork and serve with the onion and mushroom gravy. Serve with the mashed potatoes, if desired. Garnish with fresh rosemary.