Red Velvet Biscotti
By
Paula Deen
JUMP TO RECIPE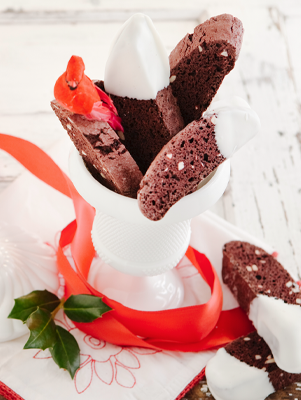 Difficulty: Medium
Prep time: 30 minutes
Cook time: 60 minutes
Servings: 96
Ingredients
3 cups all purpose flour
2 cups sugar
1 cup unsweetened cocoa
2 bottles red food coloring
1 1/2 teaspoons baking soda
1/4 teaspoon salt
1 3/4 cups toasted almond pieces
5 large eggs
1 1/2 teaspoons vanilla
3/4 lb white chocolate, melted for dipping
Directions
Preheat oven to 350 °F. Line two large baking sheets with parchment paper.
In the bowl of an electric mixer, combine the flour, sugar, cocoa, food coloring, baking soda and salt. Mix for 30 seconds on low speed to combine. Add the almonds and mix well.
In medium mixing bowl, lightly beat the eggs with the vanilla. On low speed, pour the eggs into the dry ingredients and mix just to form a soft dough.
Divide the dough into 4 equal pieces. On a lightly floured work surface, roll each piece under your palms into a 14-inch cylinder about 2 inches in diameter. Transfer to the prepared baking sheets, placing 2 logs on each baking sheet, about 2 inches apart.
Bake for about 30 minutes, until the logs are lightly browned and firm. Let cool completely on the baking sheets on wire racks. Reduce the oven temperature to 300 °F.
Transfer one of the cooled logs to a cutting board. With a heavy sharp knife, cut the log into 3/4-inch-thick slices. If sliced crosswise, each log will average 24 small cookies. If cut on an angle, each log will yield about 16 large pieces. Repeat with the remaining logs. Spread the cookies on the parchment-lined sheets.
Bake the cookies for 30 minutes, turning halfway through baking, until crisp. Transfer the cookies to wire racks and cool completely.
Melt white chocolate over a double boiler or in a microwave using a microwaveable bowl. Dip ends of cooled biscotti into melted chocolate and dry on waxed paper. Serve with coffee or tea.