Ratatouille Supreme with Pepper Jack
By
Deen Brothers
JUMP TO RECIPE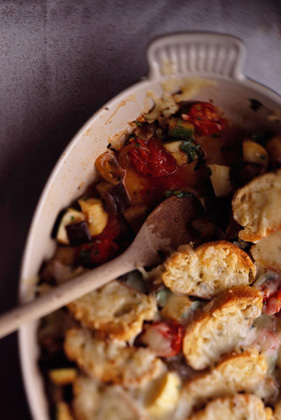 Featured in:
The Deen Bros. Recipes from the Road
Difficulty: Easy
Prep time: 30 minutes
Cook time: 60 minutes
Servings: 6
Ingredients
1 small baguette
6 tablespoons olive oil
3 large onions
6 cloves garlic (5 chopped)
2 pounds eggplant
1 pound zucchini
1 pound cherry tomatoes
1 large sprig fresh rosemary
1 1/4 teaspoons salt
1/2 teaspoon freshly ground black pepper
1/2 cup fresh basil leaves
2 teaspoons lemon juice, freshly squeezed
1 teaspoon fresh rosemary, chopped
olive oil for brushing
2 cups shredded pepper Jack cheese
Directions
Preheat oven to 400°F. Arrange the baguette slices in a single layer on a baking sheet. Toast in oven for 3 to 5 minutes or until pale golden. Set aside.
In a large skillet, heat 3 tablespoons of the oil over medium heat. Add the onions; cook for 15 to 20 minutes or until golden, stirring occasionally. Add the chopped garlic; cook for 30 seconds. Stir in the remaining 3 tablespoons oil, the eggplant, zucchini, tomatoes, rosemary sprig, salt, and pepper. Cook and stir for 5 minutes. Cover and reduce heat to low. Cook about 25 minutes more or until vegetables are fork-tender.
While the mixture cooks, chop the remaining garlic clove; set aside. Uncover the pan and increase heat to medium-high. Cook about 10 minutes or until the mixture thickens. Remove the rosemary sprig. Stir in the remaining garlic, the basil, lemon juice, and chopped rosemary.
Preheat the broiler. Transfer the vegetable mixture to a 2- to 3-quart casserole dish. Arrange the toasted baguette slices over top. Brush the bread with additional olive oil. Top evenly with pepper Jack cheese. Broil 4 to 5 inches from heat for 1 to 2 minutes or until the bread is golden and the cheese has melted.