Pressed Bagel Sandwich
By
Deen Brothers
JUMP TO RECIPE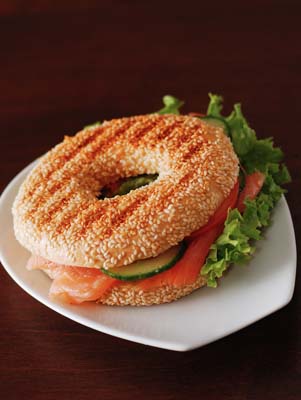 Difficulty: Easy
Prep time: 5 min
Cook time: 5 min
Servings: 2 servings
Ingredients
3 ounces low-fat cream cheese
2 teaspoons chopped capers
2 teaspoons chopped fresh chives
2 teaspoons chopped fresh dill
2 whole-grain bagels
4 ounces smoked salmon
2 large slices tomato
1/4 red onion
Sliced cucumber
Directions
Mix together the cream cheese, capers, chives and dill in a small bowl. Set aside.
Cut a thin slice away from the top and bottom of each bagel using a serrated knife, and then slice the bagels in half horizontally (reserve bagel scraps for another purpose, such as homemade breadcrumbs).
Assemble the sandwiches by spreading each bagel half with 2 teaspoons of the cream cheese mixture. Top with the smoked salmon, tomatoes, onions and cucumbers. Transfer the sandwiches to a panini press or a nonstick skillet and cook until the bagels are toasted on each side.