Potato Chip Cookies
By
Paula Deen
JUMP TO RECIPE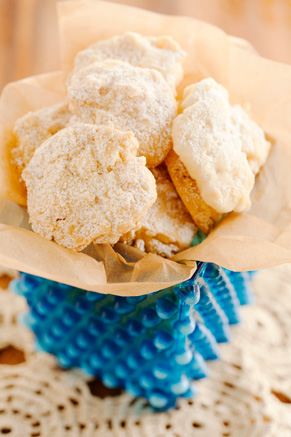 Difficulty: Easy
Prep time: 20 minutes
Cook time: 20 minutes
Servings: 20
Ingredients
2 cups (4 sticks) softened butter
1 cup sugar
3 1/4 cups all purpose flour
1 teaspoon vanilla
1 1/2 cups coarsely crushed potato chips
1/4 cup confectioner's sugar
Directions
Preheat oven to 300º.
In a large mixing bowl cream butter and sugar. Slowly blend in flour and vanilla. Add crushed potato chips and mix well. Drop by rounded teaspoon, 2 inches apart onto ungreased cookie sheet. Using a fork, flatten each cookie slightly. Bake 18-20 minutes, or until light brown around the edges. Remove to wire rack to cool. Sprinkle with confectioners sugar.
Notes From the Paula Deen Test Kitchen: When using a fork to press cookies on baking sheet, dip the fork in flour first and the batter will not stick to the fork. These cookies were sinfully delicious and disappeared as fast as we could bake them.