Pimento Mac and Cheese
By
Paula Deen
JUMP TO RECIPE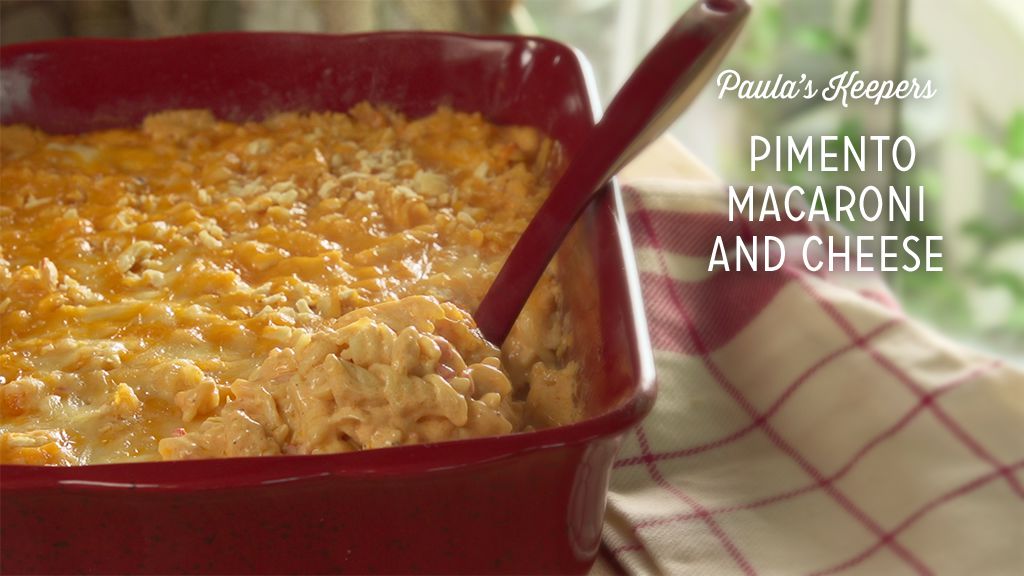 Difficulty: Easy
Prep time: 15 minutes
Cook time: 15 minutes
Servings: 15
Ingredients
1/2 cup butter
1/2 small diced onion
1/2 cup all purpose flour
4 cups whole milk
2 teaspoons smoked paprika
2 teaspoons Paula Deen Hot Sauce
1 (8 oz) package softened and cubed cream cheese
1 (4 oz) jar, diced pimentos
1 1/2 cups shredded, divided cheddar cheese
3/4 cups shredded, divided Monterey Jack cheese
1 lb cooked, drained rotini
1/3 cup crushed soda crackers
1 pinch to taste kosher salt
1 pinch to taste black pepper
Directions
Heat oven to 350 °F. Grease a 13×9 inch casserole dish with non-stick spray.
Add butter to a large Dutch oven over medium heat. Once melted, add the onion and sauté until tender, about 4 minutes.
Stir in the flour, and cook for 2 minutes, until pasty. Slowly whisk in the milk, and cook, while stirring, until the mixture is thick, about 3 minutes. Season the mixture generously with salt and pepper, smoked paprika and hot sauce.
Stir in the cubed cream cheese until it melts, add the pimentos then stir in 1 3/4 cups cheddar and 3/4 cup Monterey Jack. Stir the mixture all together until smooth. Stir in the pasta and add to the casserole dish.
Sprinkle the top of the casserole with crushed crackers and the remaining ¼ cup cheddar and ¼ cup Jack. Bake for 25-30 minutes, until golden and bubbly.