Pick up and Go Bars
By
Paula Deen
JUMP TO RECIPE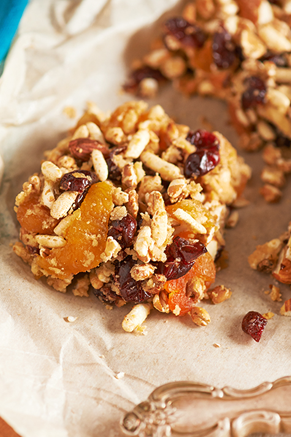 Difficulty: Easy
Prep time: 15 minutes
Cook time: 15 minutes
Servings: 15
Ingredients
2 cups puffed rice cereal
1/2 cup chopped raw almonds
1/2 cup dried low sugar cranberries
1/2 cup dry milk powder
1/4 cup chopped dried apricots
1/2 cup maple syrup
3 tablespoons light brown sugar
2 tablespoons smooth peanut butter
1/2 teaspoon salt
Directions
Heat oven to 300 °F and adjust racks to center of oven. Line an 8×8 baking dish with parchment paper, leaving a 3-inch overhang over the sides to use as handles later. Spray the parchment with non-stick cooking spray.
Add the puffed rice cereal, almonds, cranberries, milk powder and apricots to a large bowl and toss all together with your hands.
Add the maple syrup, brown sugar, peanut butter and salt to a small saucepan and bring to a light simmer, stirring until the peanut butter is dissolved.
Pour the syrup over the cereal mixture and stir all together with a rubber spatula, working quickly. Add the sticky mixture to the prepared baking pan and pat down with the rubber spatula. Place a piece of parchment over the top and press down firmly. This will make slicing easier later on. Remove the parchment from the top after pressing and bake in the middle rack for 25 minutes, until just lightly golden. Cool the bars completely in the pan then slice into 8 bars.
Tips:
Don'€™t use a serrated knife to slice these! We tried and the bars crumbled. So be sure to let cool completely in the pan, then use a sharp knife to firmly slice. Wrap tightly in foil if taking on the go. (We don'€™t want them falling apart in your purse!)
Have fun with this recipe! You can mix and match ingredients- we'€™ve found success using different combinations of dried fruits and nuts. If you want it to taste more peanut buttery- just add an extra tablespoon or two.