Pesto Cheese Blossoms
By
Paula Deen
JUMP TO RECIPE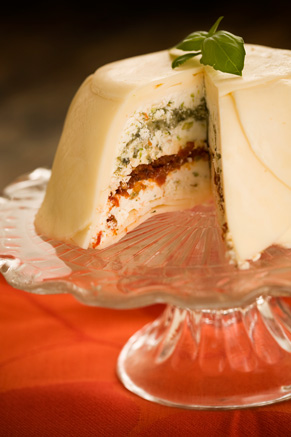 Difficulty: Easy
Prep time: 20 minutes
Cook time: 20 minutes
Servings: 20
Ingredients
1 (8 oz) package sliced provolone cheese
2 (8 oz) packages at room temperature cream cheese
20 shelled pistachios
2 cloves garlic
1/2 cup fresh basil leaves
1/2 cup fresh parsley
1/2 cup pine nuts
1/4 teaspoon salt
1/4 teaspoon freshly ground pepper
2 tablespoons extra virgin olive oil
3 oz oil-packed sun-dried tomatoes
Directions
Line a medium bowl with plastic wrap, leaving enough overhang to cover the top. Reserving 3 slices of the provolone, line the bottom and sides of the bowl with the remaining provolone, overlapping the slices.
For the cream cheese layer, process the cream cheese, pistachios, and 1 of the garlic cloves in a food processor until blended; scrape the mixture into a bowl and set aside.
For the pesto layer, process the basil, parsley, pine nuts, and the remaining garlic clove in the food processor until blended. Dissolve the salt and pepper in the olive oil and mix well. With the machine running, add the oil in a fine stream. Scrape this mixture into a second bowl and set aside.
For the tomato layer, drain the tomatoes, reserving the oil. Puree the tomatoes with a small amount of the reserved oil in a food processor.
Spread some of the cream cheese mixture over the cheese slices lining the bowl. Layer the pesto mixture, half of the remaining cream cheese mixture, the sun dried tomato mixture, and then remaining cream cheese mixture in the bowl.
Cover with the remaining provolone cheese. Bring the edges of the plastic wrap together over the top and secure with a twist tie. Freeze until firm. Remove the plastic wrap and invert the mold onto a serving platter. Serve with party crackers. This will keep in the refrigerator for up to 3 months.