Pear Fritters
By
Paula Deen
JUMP TO RECIPE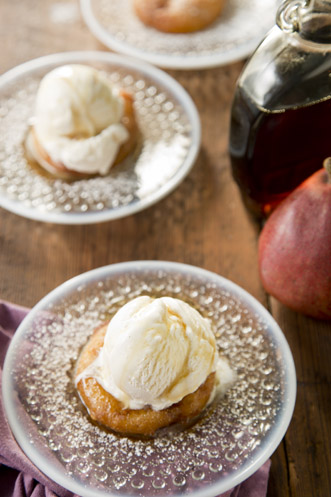 Difficulty: Medium
Prep time: 10 minutes
Cook time: 10 minutes
Servings: 10
Ingredients
1/2 cup milk
1 slightly beaten egg
2 teaspoons sugar
1 teaspoon ground cinnamon
1 cup sour cream
1 cup self rising flour
2 peeled and cored pears
for frying vegetable oil
Directions
Whisk together milk, egg, sugar, cinnamon and sour cream. Add flour. Set aside.
Slice the cored pears into rings. Heat the oil in skillet. Dip rings into batter and place in hot oil. Fry until golden brown.
Top with vanilla ice cream and sprinkle with cinnamon-sugar and powered sugar, if desired. Drizzle with maple syrup and garnish with a mint leaf, if desired.