Peanut Butter Buckeyes
By
Paula Deen
JUMP TO RECIPE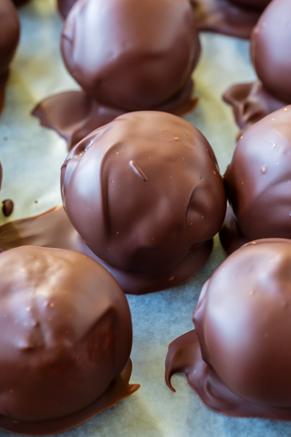 Difficulty: Medium
Prep time: 180 minutes
Cook time: 180 minutes
Servings: 180
Ingredients
1 (12 oz) jar about 1 1/2 cups crunchy peanut butter
1 (16 oz) box powdered sugar
1/2 lb (2 sticks) butter
1 (12 oz) package semi sweet chocolate chips
Directions
Mix together peanut butter, sugar and butter and form into small balls; chill.
In the top of a double boiler over medium heat, melt the chocolate chips, stirring until smooth.
Using a toothpick, dip each ball into the chocolate and cover about 3/4 of the ball, leaving a round peanut butter "eye" showing. Place on wax paper to cool.