Peach Cream Tart
By
Paula Deen
JUMP TO RECIPE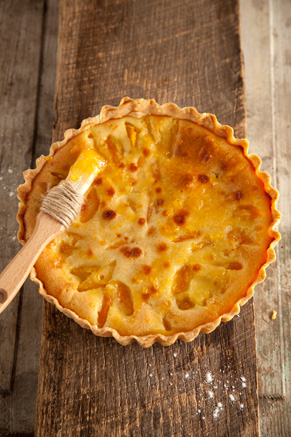 Difficulty: Medium
Prep time: 15 minutes
Cook time: 15 minutes
Servings: 15
Ingredients
1 1/4 cups plus 1/4 cup for filling all purpose flour
1/2 cup softened butter
3/4 cup plus 2 tablespoons for crust sour cream
6 medium peeled and sliced, or 1 (28 oz) can and 1 (16 oz) can sliced peaches in light syrup, well drained peaches
3 large egg yolks
3/4 cup sugar
1/2 cup warmed (or jelly) peach preserves
1 tablespoon frozen lemonade concentrate
Directions
Preheat the oven the 375 °F.
To make the crust: Place the 1 1/4 cups flour, butter, and 2 tablespoons sour cream in food processor and pulse to combine. When the dough has formed a ball, pat with lightly floured hands into the bottom and sides of an ungreased 10-inch tart pan with a removable bottom with 1/2-inch sides, or a round au gratin dish. Bake for about 15 minutes, until the crust is set but not browned. Let cool while preparing the filling.
Lower the oven temperature to 350 °F.
To make the filling: If using fresh peaches, peel and thickly slice the peaches. Arrange the fresh or canned peach slices in overlapping circles on top of the crust, until it's completely covered. Overfill the crust, as peaches will draw up during cooking.
Combine the egg yolks, 3/4 cups sour cream, sugar and 1/4 cup flour and beat until smooth. Pour the mixture over the peaches.
Place the tart pan on a baking sheet and bake for about 1 hour, until the custard sets and is pale golden in color. Cover with an aluminum foil tent if the crust gets too dark. Transfer the tart pan to a wire rack to cool. When cool, remove the side wall of the pan.
To make the glaze, combine the preserves or jelly and lemonade. Spread with a pastry brush over the top of the warm tart. Serve the tart warm, at room temperature, or chilled.
*Cook's Note: If using fresh peaches, sprinkle with a little lemon juice after slicing.