Peach Cheesecake
By
Paula Deen
JUMP TO RECIPE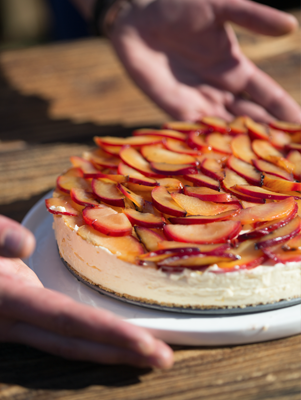 Difficulty: Easy
Prep time: 10 minutes
Cook time: 10 minutes
Servings: 10
Ingredients
1 box graham cracker crumbs
1 1/4 cups divided sugar
1 tablespoon melted butter
2 eggs
3 (8 oz) packages cream cheese
1/2 teaspoon vanilla
1/4 cup plus 1 cup peach jam
Directions
Preheat oven to 350 °F.
In a medium size bowl, combine the graham cracker crumbs with 1/4 cup sugar and butter. Mix well and place in the bottom and sides of an 8-inch springform cake pan. Make sure to press against the sides and bottom of the pan. Set crust aside.
Prepare the filling by beating the eggs and cream cheese together. Add 1 cup sugar and vanilla and continue beating until well blended. Add 1/4 cup peach jam and mix to incorporate Pour mixture into prepared crust and bake for 35 to 40 minutes. Remove from oven and let cool for 10 minutes. Top with remaining 1 cup of peach jam. Cool to room temperature and then refrigerate overnight.