PB & J Muffins
By
Paula Deen
JUMP TO RECIPE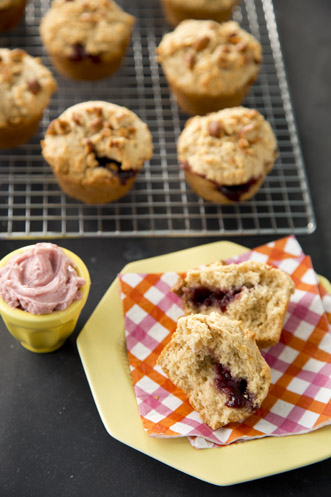 Difficulty: Easy
Prep time: 15 minutes
Cook time: 15 minutes
Servings: 15
Ingredients
2 cups all purpose flour
1/4 cup packed light brown sugar
2 tablespoons baking powder
1/2 teaspoon salt
1/2 cup plus 1 teaspoon creamy peanut butter
1 cup milk
1 lightly beaten egg
1 stick at room temperature, plus 3 tablespoons melted butter
1/4 cup thick, such as seedless raspberry jam
1/3 cup chopped honey-roasted peanuts
5 tablespoons your favorite type fruit preserves
Directions
Preheat the oven to 350 °F. Spray a 12-cup muffin tin with cooking spray.
In a food processor, combine the flour, sugar, baking powder and salt. Pulse in all of the peanut butter until the mixture resembles coarse crumbs. Add the milk, egg, and 3 tablespoons melted butter and pulse until combined.
Distribute half of the batter equally among the muffin cups. Drop a teaspoon of jam into each cup and cover with the remaining batter. Top with the chopped peanuts. Bake until the muffins are light golden, 15 to 20 minutes. Transfer them to a wire rack to cool. Serve warm or allow to cool completely. Spread compound butter on top. Store in an airtight container. The muffins will keep for 1 to 2 days.
Compound Butter:
Combine 1 stick room temperature butter with preserves and chill until set.