Paula's Sugared Rose Parade Layer Cake
By
Paula Deen
JUMP TO RECIPE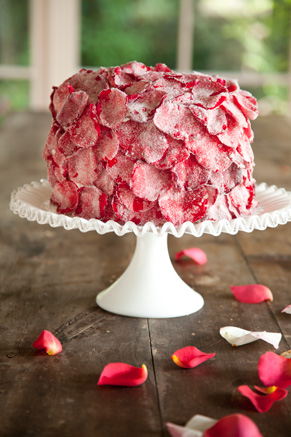 Difficulty: Hard
Prep time: 60 minutes
Cook time: 60 minutes
Servings: 60
Ingredients
2 broken up with a fork egg whites
50 to 75 (depending on size) from organically grown roses rose petals
3 cups sifted self rising flour
1 cup milk
1 cup buttermilk
1 teaspoon salt
2 1/2 cup cake flour
2 oz red food coloring
2 tablespoons cocoa powder
6 cups divided sugar
6 divided eggs
1/2 teaspoon baking soda
1 tablespoon vinegar
2 lbs softened cream cheese
2 lbs softened, divided butter
3 teaspoons pure vanilla extract
6 to 8 cups sifted confectioner's sugar
Directions
Prepare Sugared Rose Petals one day in advance:
Line a baking sheet with wax paper and set aside. Pour 2 cups sugar into a medium mixing bowl. Using a craft paint brush, gently brush all sides of each rose petal with the egg whites and dip each one into the sugar completely coating the petal. Place on lined baking sheet. Repeat until all rose petals are covered. Allow to dry at room temperature over night.
To prepare cakes:
Preheat oven to 350º.
Prepare four 10″ cake pans with non stick cooking spray and set aside.
For the White Cake Layers:
Using an electric mixer, cream 1 cup butter until fluffy. Add sugar and continue to cream well for 6 to 8 minutes. Add 4 eggs, 1 at a time, beating well after each addition. Add self-rising flour and milk alternately to creamed mixture, beginning and ending with flour. Add 1 teaspoon vanilla and continue to beat until just mixed. Divide batter equally among two of the prepared pans. Level batter in each pan by holding pan 3 or 4 inches above counter, then dropping it flat onto counter. Do this several times to release air bubbles and assure you of a more level cake. Bake for 25 to 30 minutes or until done. Cool in pans 5 to 10 minutes. Invert cakes onto cooling racks. Cool completely.
For the Red Velvet Cake Layers:
In the bowl of a standing mixer, beat 1 1/2 lbs butter, 2 eggs and 2 cups sugar. In a separate small mixing bowl, stir together cocoa and food coloring. Add cocoa mixture to the butter mixture and mix well. In a medium mixing bowl, sift together cake flour and salt. Add flour mixture to creamed mixture alternately with buttermilk. Add 1 teaspoon vanilla and mix just to combine. In a small bowl, combine soda and vinegar and add to mixture. Pour into the remaining two prepared pans. Bake for 20 to 30 minutes, or until tests done. Cool completely.
For the Frosting:
In the bowl of a standing mixer, beat the cream cheese, 1 pound butter and 2 teaspoons vanilla together until smooth. Add the confectioners' sugar and beat on low speed until incorporated. Increase the speed to high and mix until very light and fluffy.
To assemble cake:
Remove cakes from pan and place one layer of red velvet cake on a cake stand and top with a 1/2″ layer of frosting. Top with one layer of white cake and top with 1/4″ layer of frosting. Continue until all cake layers have been stacked and frosted in between, ending with a white layer. At this point, secure your cake in place with 4 wooden skewers pushed from the top to the bottom of the cake.
Apply a thin layer of frosting covering the entire cake and place in the refrigerator to harden slightly for 30 minutes. Remove from refrigerator and frost the entire cake again with a thick layer of frosting. Decorate cake with sugared rose petals and serve.