Orange Creamsicle Cupcakes
By
Stefani Pollack
JUMP TO RECIPE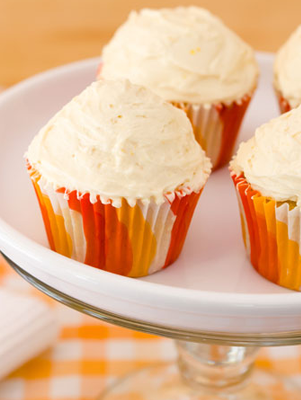 Difficulty: Medium
Prep time: 50 minutes
Cook time: 30 minutes
Servings: 16
Ingredients
Cupcakes
⅔ cup sugar
finely grated zest of 2 oranges
2 cups flour
1½ teaspoons baking powder
½ teaspoon baking soda
¾ cup unsalted butter, room temperature
2 large eggs
⅔ cup full-fat sour cream
2 teaspoons vanilla extract
⅔ cup pure orange juice
Salted Caramel
3 tablespoons unsalted butter
½ cup light brown sugar
¼ cup orange juice
¼ teaspoon salt
2 tablespoons heavy whipping cream
Frosting
1 cup unsalted butter, room temperature
2 cups powdered sugar
¼ teaspoon salt
finely grated zest of 1 orange
½ cup salted caramel (from above), room temperature
Directions
Cupcakes
30 minutes before baking, mix sugar and orange zest in a small bowl to infuse the orange flavor into the sugar.
Preheat oven to 350˚ F.
In a small bowl, whisk together flour, baking powder, and baking soda.
In a medium-sized bowl, cream butter and the sugar/orange zest mixture until light and fluffy.
Mix eggs, sour cream, and vanilla into butter/sugar mixture until fully combined.
Alternately mix the flour mixture and orange juice into the wet ingredients, beginning and ending with the flour mixture.
Fill cupcake liners ¾ full.
Bake for 20 minutes or until a toothpick comes out clean.
Salted Caramel
Melt butter in a small saucepan on medium heat. Add brown sugar and stir continuously until just boiling. Add orange juice and salt and stir well.
Stir in heavy whipping cream until just combined. Remove from heat. Cool to room temperature.
Set aside ½ cup for the frosting.
Frosting
In a medium-sized mixing bowl, beat butter on high speed with an electric mixer for three minutes until light and fluffy.
Mix in powdered sugar a little bit at a time. Mix in salt and orange zest. Mix in salted caramel.
Spread or pipe on cooled cupcakes.
Optionally, drizzle any extra salted caramel over the frosting.