Orange Coffee Cake
By
Paula Deen
JUMP TO RECIPE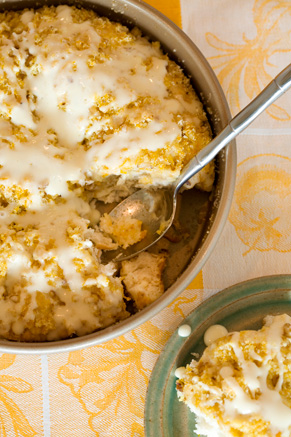 Difficulty: Easy
Prep time: 15 minutes
Cook time: 15 minutes
Servings: 15
Ingredients
2 tablespoons melted, plus more for pan butter
1 (16.3 oz) can (recommend flaky) refrigerated biscuits
1/4 cup minced walnuts
1/3 cup granulated sugar
2 teaspoons orange zest
1/2 cup confectioner's sugar
2 oz softened cream cheese
2 tablespoons or more as necessary orange juice
Directions
Preheat the oven to 350 °F. Butter a 9-inch round cake pan.
Separate the biscuit dough into 8 biscuits. Place 1 biscuit in the center of the pan. Cut the remaining biscuits in half, forming 14 half-circles. Arrange the pieces around the center biscuit with cut sides facing in the same direction. Brush melted butter over the tops of the biscuits.
In a small bowl, combine the walnuts, granulated sugar and orange zest. Mix well and sprinkle over biscuits. Bake for 20 minutes or until golden brown.
Meanwhile, in a small bowl combine confectioner's sugar, cream cheese and orange juice. Blend until smooth adding more orange juice, if needed, to thin. Drizzle glaze over the warm coffee cake and serve.