Onion-Sesame Flank Steak Lettuce Wraps
By
Paula Deen
JUMP TO RECIPE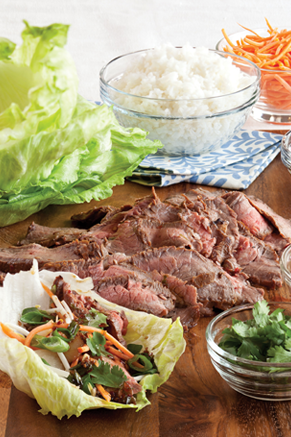 Difficulty: Easy
Prep time: 20 minutes
Cook time: 20 minutes
Servings: 20
Ingredients
1/2 cup thinly sliced green onions
1 zested and juiced lime
5 tablespoons low sodium soy sauce
3 tablespoons brown sugar
2 tablespoons sesame oil
2 tablespoons rice vinegar
2 teaspoons bottled minced garlic
1 teaspoon crushed red pepper flakes
1 (2 lb) flank steak
1 head leaves separated iceberg lettuce
Directions
1. In a medium bowl, stir together green onion, lime zest and juice and next 6 ingredients.
2. Place steak in a resealable plastic bag. Add half of green onion mixture; seal bag, and chill for at least 4 hours or up to 24 hours. Cover and chill remaining green onion mixture.
3. Spray grill rack with nonstick nonflammable cooking spray. Preheat grill to medium-high heat (350° to 400°).
4. Remove steak from bag, discarding marinade. Grill steak for 8 to 10 minutes per side or until a thermometer registers 155° or to desired degree of doneness. Remove from heat, and let stand for 10 minutes before slicing across the grain.
5. Serve steak in lettuce leaves with desired toppings and remaining green onion mixture. Topping ideas: matchstick carrots, bean sprouts, sliced water chestnuts, sliced green onion, fresh cilantro leaves, steamed white rice