Mom's Apple Pie
By
Paula Jones
JUMP TO RECIPE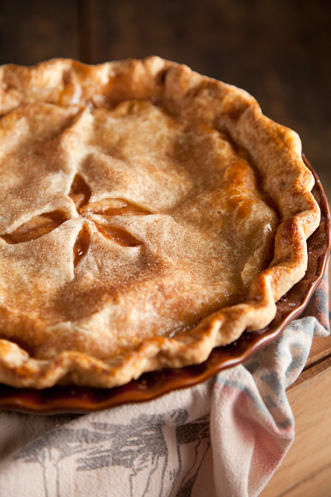 This apple pie recipe is straight out of mom's kitchen! If you're looking for a sweet à la mode, try this all-American dessert topped with vanilla
Show more
This apple pie recipe is straight out of mom's kitchen! If you're looking for a sweet à la mode, try this all-American dessert topped with vanilla ice cream and caramel sauce!
Difficulty: Medium
Prep time: 30 minutes
Cook time: 30 minutes
Servings: 30
Ingredients
8 peeled & sliced, half Granny Smith, half Macintosh apples
2 sticks cold and cubed, plus 2 tablespoons cold and sliced unsalted butter
1 1/4 cups plus 1 teaspoon sugar
1 tablespoon ground cinnamon
1 teaspoon ground nutmeg
2 1/2 cups plus 3 tablespoons flour
1 teaspoon salt
1/4 to 1/2 cup ice water
1 lightly beaten, for egg wash egg
for dusting cinnamon sugar
Directions
Preheat oven to 400 °F.
In a food processor combine the 2 1/2 cups flour, salt, 1 teaspoon sugar and pulse. Add in 2 sticks cubed, cold butter and slowly gradually add the ice water. Pulse until dough just comes together. Don't overwork the dough or it will make a tough crust.
Remove the dough from processor. Cut into two equal sections. Pat sections into discs and wrap in plastic wrap and place into refrigerator. Chill for 1 hour. (can be frozen for future use)
In a small mixing bowl bowl, combine cinnamon, nutmeg, 1 1/4 cups sugar and 2 tablespoons flour, set aside. In a large mixing bowl, add the peeled and sliced apples. Sprinkle spice and flour mixture over apples. Toss to coat.
Remove one chilled disc of dough from the refrigerator and roll out on a lightly floured surface, large enough to cover your pie pan. Shape to fit, cutting off any excess.
Pour apple mixture into pie pan and add your 2 tablespoons sliced butter to the top of the mixture. Remove second dough disk from refrigerator and roll out large enough to fit the top of your pie with an overhang. Place pie dough on top of apple mixture and crimp edges to seal. With a knife, add four slits to your piecrust. Lightly brush egg wash onto top of dough. Sprinkle liberally with cinnamon sugar.
Place onto a baking tray into preheated oven for approximately 50 minutes or until golden brown and bubbly. Allow pie to rest until cool before slicing. Refrigerate any uneaten portions.