Mini Shepherd's Pies
By
Paula Deen
JUMP TO RECIPE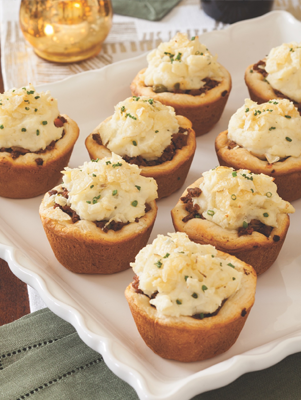 Featured in:
Cooking with Paula Deen Magazine
Difficulty: Easy
Prep time: 20 minutes
Cook time: 30 minutes
Servings: 10
Ingredients
1 pound ground beef
½ cup chopped onion
2 cloves garlic, minced
½ cup frozen peas and carrots, thawed
⅓ cup ketchup
1 tablespoon apple cider vinegar
1 teaspoon Kosher salt
½ teaspoon ground black pepper
½ (24-ounce) package frozen cut russet potatoes *
½ (5.2-ounce) package boursin garlic and herb cheese
1 (10.5-ounce) can original refrigerated buttermilk biscuits
½ cup crushed potato chips
chopped fresh chives, for garnish
Directions
Preheat oven to 375°F. Spray 10 muffin cups with cooking spray.
In a large skillet, cook ground beef, onion, and garlic over medium heat until beef is browned and crumbly; drain. Stir in peas and carrots and next 4 ingredients; remove from heat.
Cook potatoes according to package directions. Add cheese, stirring to combine.
Press biscuit dough into bottom and up sides of prepared muffin cups. Top with meat mixture, pressing down gently. Cover with mashed potatoes.
Bake until biscuits are golden brown, about 20 minutes. Sprinkle with potato chips, and garnish with chives, if desired. Serve immediately.
Cook's Note: *We used Ore-Ida Steam n' Mash Cut Russet Potatoes.