Mediterranean Stuffed Pork Chops
By
Deen Brothers
JUMP TO RECIPE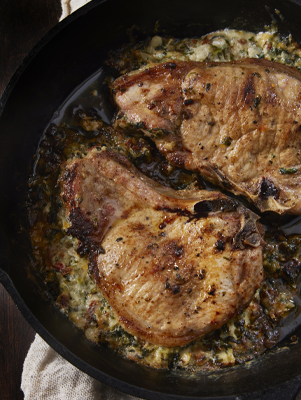 Difficulty: Easy
Prep time: 15 min
Cook time: 30 min
Servings: 4 servings
Ingredients
Four 1 1/2 to 2-inch-thick pork chops
2 ounces crumbled feta cheese
1/2 cup chopped frozen spinach thawed and well drained
2 tablespoons chopped kalamata olives
2 tablespoons chopped sundried tomatoes
Canola oil
Salt and pepper
4 wooden skewers
Directions
Heat an outdoor grill or grill pan over medium heat. Preheat the oven to 400 degrees F.
Carefully make a slit into the side of each pork chop using a chef's knife to create a pocket to stuff ingredients into. Mix together the feta, spinach, olives and sundried tomatoes in a medium bowl. Stuff each pork chop with the spinach mixture and rub each with 1/4 teaspoon salt and 1/4 teaspoon pepper. Secure each pork chop with a wooden skewer or toothpicks (remember to remove before serving).
Brush oil on the grill grate to prevent sticking. Grill the pork chops until nicely browned, 6 to 8 minutes, turning every few minutes to create grill marks. Transfer to a baking sheet and finish cooking in the oven until the pork reaches an internal temperature of 140 degrees F, 15 to 20 minutes.