Mama's Pecan-Cheese Wafers
By
Paula Deen
JUMP TO RECIPE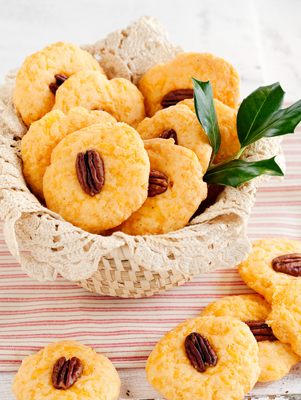 Difficulty: Easy
Ingredients
10 ounces (1 1/4 cups or 2 1/2 sticks) softened butter
5 cups all purpose flour
5 cups such as Rice Crispies puffed rice cereal
2 1/2 pounds very sharp grated sharp cheddar
2 1/2 teaspoons salt
1 1/4 teaspoons cayenne pepper
3 cups whole approximate pecan halves
Directions
Cream the butter until fluffy and then add the cheddar and cream until light. Whisk or sift together the flour, salt, and cayenne. Work the flour into the butter and cheese and then work in the crisped cereal. Cover and refrigerate about 20 minutes.
Position a rack in the center of the oven and preheat to 350 degrees F. Lightly grease your hands and take up small lumps of the dough and roll them into a ball a little less than an inch in diameter. Lay them on an ungreased cookie sheet and lightly flatten with the back of your hand. Press a pecan into each wafer.
Bake in the center of the oven until lightly colored, about 18 to 20 minutes. Cool on the cookie sheet and store in airtight tins.