Lighter Tomato Tart Appetizers
By
Deen Brothers
JUMP TO RECIPE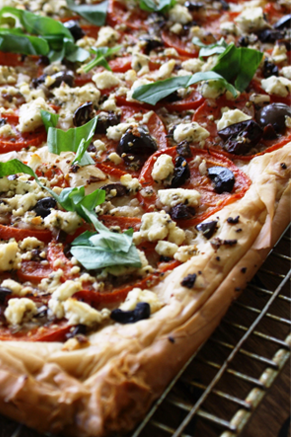 Difficulty: Easy
Prep time: 15 minutes
Cook time: 15 minutes
Servings: 15
Ingredients
4 thinly sliced plum tomatoes
1/2 small minced red onion
2 tablespoons divided olive oil
16 pitted, coarsely chopped kalamata olives
1/2 teaspoon dried thyme
1/2 cup crumbled goat cheese
8 (12 x 17-inch) sheets thawed phyllo dough
1/4 cup chopped fresh basil
Directions
Place the tomato slices on sheets of double-lined paper towels. Cover the tomatoes with more paper towels and blot gently. Let stand 10 minutes.
Combine the onion, olive oil, olives and thyme in a small bowl until blended; set aside.
Position a rack in the lower third of the oven and preheat oven to 400 °F. Spray a baking sheet with olive oil cooking spray. Lay one sheet of phyllo across the baking sheet. Keep the unused phyllo covered with a damp towel to prevent from drying out. Lightly spray the phyllo with cooking spray. Repeat layering the remaining phyllo spraying each sheet lightly with cooking spray. Roll the edges of the phyllo in to make an edge.
Arrange the tomatoes across the phyllo. Scatter the onion mixture evenly over the tomatoes, using a fork to evenly spread the mixture. Top with the goat cheese. Bake until edges of phyllo are golden brown and tomatoes are softened, 15 to€" 20 minutes. Sprinkle with basil. Cut the tart into 12 pieces. Serve immediately.