Lighter Tomato Pie
By
Bobby Deen
JUMP TO RECIPE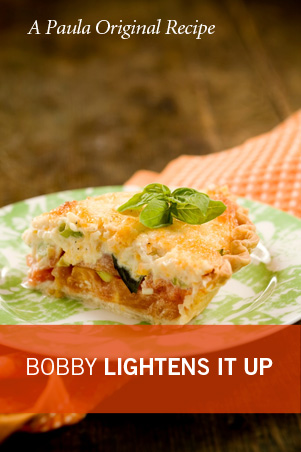 Difficulty: Easy
Prep time: 10 minutes
Cook time: 10 minutes
Servings: 10
Ingredients
1/2 (15 oz) package (rolled) refrigerated pie crust
1/2 cup reduced-fat shredded four-cheese Italian blend
4 large (about 1 lb) cut into 1/2-inch thick slices plum tomatoes
1/4 teaspoon salt
2 tablespoons chopped fresh basil
1/2 cup light mayonnaise
2 tablespoons finely chopped scallions
2 to 4 drops hot pepper sauce
1 tablespoon grated Parmesan cheese
Directions
Preheat the oven to 400 °F.
On a lightly floured surface, roll the dough to an 11-inch round. Gently ease the dough into a 9-inch glass pie plate. Trim the dough edge, leaving a 1/2-inch overhang; crimp the edge. Bake until lightly browned, 10–12 minutes. Transfer the crust to a wire rack to cool.
Reduce the oven temperature to 375 °F.
Sprinkle 1/4 cup cheese blend evenly on the bottom of the cooled crust; top with the tomato slices, overlapping to fit. Sprinkle the tomatoes with the salt and top with the basil.
Combine the mayonnaise, scallions, hot pepper sauce and the remaining 1/4 cup cheese blend in a medium bowl until blended; spread over the tomatoes, leaving a 1-inch border around the edge. Sprinkle with the Parmesan cheese. Bake, uncovered, until the filling is hot and the top is browned and bubbly, 30–35 minutes.
Test Kitchen Tip:
Plum tomatoes are meatier and contain less water than regular tomatoes. For a delicious smoky flavor, sprinkle the tomatoes with 2 slices of cooked, crumbled turkey bacon before baking. Two slices will increase the nutritional value by 20 calories and 2 grams of fat per serving.