Lighter Sweet and Sour Meatballs
By
Deen Brothers
JUMP TO RECIPE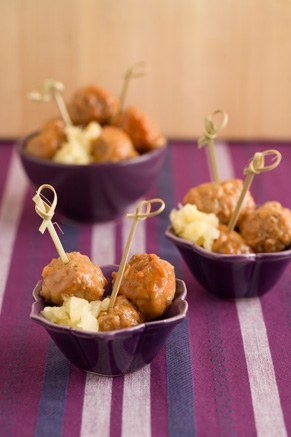 Difficulty: Easy
Prep time: 10 minutes
Cook time: 10 minutes
Servings: 10
Ingredients
1 lb lean ground turkey
1/4 cup plain dry bread crumbs
1 large lightly beaten egg
1 finely chopped shallot
1 tablespoon grated peeled fresh ginger
1 clove minced garlic
1/2 teaspoon salt
1/4 teaspoon or ground allspice chinese five-spice powder
2 teaspoons canola oil
2 (8 oz) cans drained, liquid reserved pineapple chunks
1/2 cup water
3 tablespoons ketchup
3 tablespoons apple cider vinegar
3 tablespoons packed light brown sugar
1 cut into 1/2-inch pieces red bell pepper
3 thinly sliced scallions
Directions
Mix together the turkey, bread crumbs, egg, shallot, ginger, garlic, salt and five-spice powder until thoroughly combined. With damp hands, shape the mixture into 24 (11/2-inch) balls.
Heat the oil in a large nonstick skillet over medium-high heat. Add the meatballs and cook, turning until browned on all sides, about 5 minutes. Transfer to a plate. Wipe the skillet clean.
Add the reserved pineapple liquid, water, ketchup, vinegar and brown sugar to the skillet; bring to a boil. Add the meatballs and bell pepper to the skillet. Reduce the heat, cover and simmer, stirring gently once or twice, until the meatballs are cooked through and the bell pepper is tender-crisp, 6 â€to 8 minutes. Gently stir in the pineapple chunks and scallions; heat through.