Lighter Sugared Rose Parade Layer Cake
By
Deen Brothers
JUMP TO RECIPE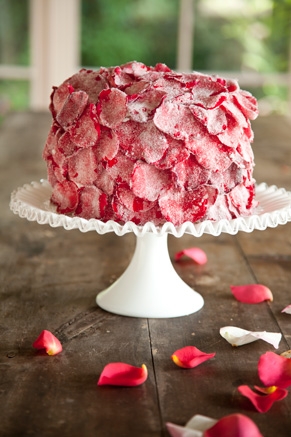 Difficulty: Medium
Prep time: 20 minutes
Cook time: 20 minutes
Servings: 20
Ingredients
2 teaspoons meringue powder
2 tablespoons water
from 2-3 large, organic or pesticide-free roses rose petals
1 1/3 cup divided granulated sugar
1 cup whole wheat pastry flour
1 cup all purpose flour
3 tablespoons unsweetened cocoa powder
2 teaspoons baking powder
1/2 teaspoon baking soda
1/2 teaspoon salt
1 cup low-fat buttermilk
1/3 cup canola oil
1 large egg
1 egg white
1 teaspoon red food coloring
1 (8 oz) package at room temperature reduced-fat cream cheese
1 cup confectioner's sugar
1/2 cup plain fat-free greek yogurt
1 teaspoon vanilla extract
Directions
To make the sugared rose petals, line a baking sheet with wax paper. Whisk together the meringue powder and water in a small bowl until blended. Remove the petals from one rose. With a small brush, lightly coat both sides of each petal with the meringue mixture. Sprinkle a small amount of sugar over both sides of the each petal. Place on the wax paper and let stand at room temperature at least 1 hour, or until completely dry. Repeat with the remaining petals, meringue mixture, and 1/3 cup total sugar.
Meanwhile, to make the cake, preheat the oven to 350 °F. Spray two 8-inch round baking pans with nonstick spray.
Whisk together the pastry flour, all-purpose flour, cocoa, baking powder, baking soda and salt in a large bowl. Whisk together the buttermilk, 1 cup sugar, oil, egg, egg white and food coloring in a medium bowl. Add to the flour mixture stirring just until blended. Scrape the batter into the pans. Bake until a toothpick inserted into the center comes out clean, 25 to 30 minutes. Let cool in pans on racks 10 minutes. Invert the pans onto the racks and let the cakes cool completely.
To make the frosting, with an electric mixer on high speed, beat the cream cheese in a medium bowl until smooth, about 1 minute. Slowly add the confectioners' sugar and beat until blended. Stir in the yogurt and vanilla until smooth and creamy.
Place 1 cake layer, bottom side up, on a serving plate. Spread about 1/2 cup frosting evenly over the entire layer, leaving a 1/2-inch border. Place the remaining cake layer on top, rounded side up. Spread the remaining frosting over the sides and top of the cake. Garnish with the sugared rose petals.