Lighter Stuffed Pork Chops
By
Deen Brothers
JUMP TO RECIPE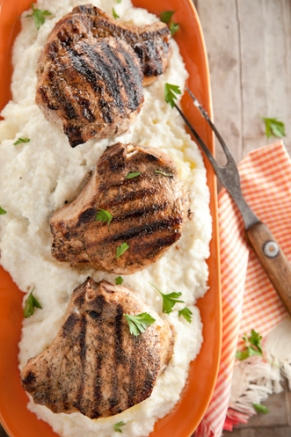 Difficulty: Easy
Prep time: 10 minutes
Cook time: 10 minutes
Servings: 10
Ingredients
2 teaspoons canola oil
1 finely chopped onion
2 cloves minced garlic
1 cored and chopped Granny Smith apple
2 teaspoons chopped, or 1/2 teaspoon dried thyme fresh thyme
1 teaspoon Paula Deen House Seasoning
1/2 lb casings removed Italian turkey sausage
4 center cut, 1/2 to 3/4-inch thick bone-in pork chops
3 cups water
3/4 cup uncooked quick cooking grits
Directions
Preheat the oven to 400°F. Spray a small shallow roasting pan with nonstick spray.
To make the filling, heat the oil in a large nonstick skillet over medium-high heat. Add the onion and garlic and cook, stirring occasionally, until soft, about 5 minutes. Add the apple, thyme, and 1/2 teaspoon House Seasoning. Cook, stirring occasionally until the apple is very tender, about 5 minutes. Add the sausage and cook, breaking it up with a wooden spoon, until browned, about 10 minutes. Transfer the filling to a large bowl; let cool completely. Wipe the skillet clean.
Meanwhile, make a pocket in the side of each pork chop by inserting a small sharp knife into the thickest part and cutting gently back and forth until a large, deep cavity is formed. Fill each pocket with one-fourth of the filling. Secure the opening with toothpicks.
Sprinkle the chops with the remaining 1/2 teaspoon of House Seasoning. Spray the same skillet with nonstick spray and set over medium-high heat. Add the chops and cook until browned, about 3 minutes on each side. Transfer the chops to the roasting pan. Cover loosely with foil and bake until an instant-read thermometer inserted into a chop reads 145°F, 15 – 20 minutes.
Meanwhile, bring the water to a boil in a medium saucepan. Slowly whisk in the grits. Reduce the heat and simmer, stirring frequently, until thickened, about 5 minutes. Remove from the heat. Serve with the pork.