Lighter Strawberry Shortcake
By
Deen Brothers
JUMP TO RECIPE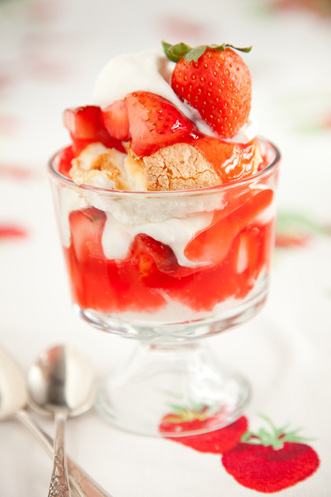 Difficulty: Easy
Ingredients
2 1/4 cups reduced-fat buttermilk baking mix
2/3 cup low fat milk
1/2 cup granulated sugar
3 tablespoons melted butter
1 tablespoon sliced almonds
4 cups hulled and sliced strawberries
1 tablespoon grated orange zest
1 tablespoon orange juice
3/4 cup thawed frozen light non-dairy whipped topping
Directions
Preheat the oven to 425 °F. Spray an 8-inch round cake pan with nonstick spray. Line the bottom of the pan with wax paper. Spray the wax paper with nonstick spray.
Combine the baking mix, milk, 5 tablespoons of the sugar, and butter in a medium bowl just until blended. Scrape the batter into the pan. Scatter the almonds over top and sprinkle with 1 tablespoon sugar.
Bake until a toothpick inserted in the center comes out clean, about 20 minutes. Cool the cake in the pan on a wire rack 10 minutes. Remove the cake from the pan. Carefully peel off and discard the wax paper. Cool the cake completely on the rack.
Toss the strawberries, orange zest, juice, and the remaining 2 tablespoons sugar in a medium bowl. Let stand until the sugar is dissolved and the mixture is syrupy, about 10 minutes.
Split the cooled cake in half horizontally. Place the bottom layer onto a cake plate; spoon the strawberry mixture over top. Spoon the whipped topping over the strawberries. Place the remaining cake layer on top. Serve immediately.