Lighter Smokey Barbecue Pork Sandwiches
By
Deen Brothers
JUMP TO RECIPE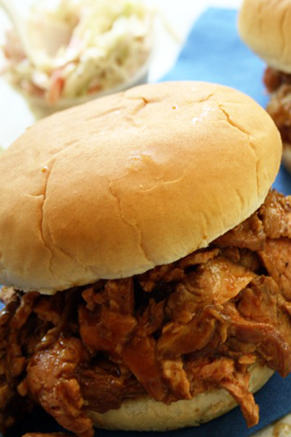 Difficulty: Easy
Prep time: 10 minutes
Cook time: 10 minutes
Servings: 10
Ingredients
3 tablespoons packed dark brown sugar
2 teaspoons chili powder
2 teaspoons smoked paprika
1 teaspoon ground cumin
1/2 teaspoon salt
1 1 1/2 lb trimmed of all visible fat pork tenderloin
2 teaspoons canola oil
3/4 cup cider vinegar
1/4 cup ketchup
1/4 cup yellow mustard
2 tablespoons maple syrup
1 tablespoon Worcestershire sauce
1 tablespoon dry mustard
1 teaspoon onion powder
1/4 teaspoon red pepper
6 reduced-calorie hamburger buns
Directions
Preheat the oven to 450 °F. Line a small roasting pan with foil and spray with cooking spray.
Combine 1 tablespoon of the brown sugar, the chili powder, paprika, cumin and salt in a small bowl. Sprinkle the mixture all over the pork, pressing to adhere.
Heat the oil in a large nonstick skillet over medium-high heat. Add the pork and cook, turning frequently, until browned on all sides, about 5 minutes. Transfer the pork to the roasting pan. Roast until an instant-read thermometer registers 145 °F for medium, about 15 minutes. Transfer the pork to a cutting board. Let stand 10 minutes.
Meanwhile, combine the vinegar, ketchup, yellow mustard, maple syrup, Worcestershire, dry mustard, onion powder, red pepper and the remaining 2 tablespoons brown sugar in a small saucepan; bring to a boil. Reduce the heat and cook, stirring occasionally, until the sauce is reduced to 1 cup, 6 -€" 8 minutes. Transfer the sauce to a large bowl.
Thinly slice the pork across the grain. Add the pork to the sauce in the bowl and toss until well coated. Divide the pork mixture evenly among the bottoms of the buns. Cover with the tops of buns. Serve with coleslaw and pickles if desired.