Lighter Phyllo Wrapped Asparagus
By
Deen Brothers
JUMP TO RECIPE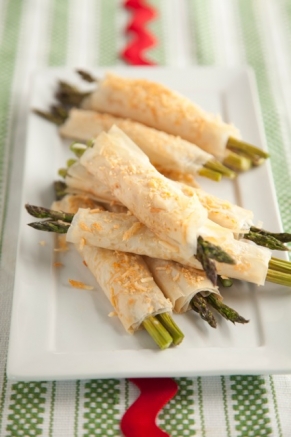 Difficulty: Easy
Prep time: 10 minutes
Cook time: 10 minutes
Servings: 10
Ingredients
6 (9 x 14-inch) sheets thawed according to package directions phyllo dough
3 tablespoons dijon mustard
6 (1 oz) slices each cut in half reduced-fat Swiss cheese
6 (1/2 ounce) slices deli ham
1 lb (about 24 spears) trimmed asparagus
Directions
Preheat the oven to 400 °F. Spray a large baking sheet with nonstick spray.
Place 1 phyllo sheet with the short end facing you on a work surface. Cover the remaining sheets of phyllo with plastic wrap to keep them from drying out as you work. Lightly spray the phyllo sheet with nonstick spray; top with a second phyllo sheet and lightly spray with nonstick spray. Brush the top of the phyllo sheet evenly with 1 tablespoon of the mustard. With a sharp knife, cut the layered sheets lengthwise in half, then crosswise to make 4 rectangles. Top each rectangle with one cheese slice half and one ham slice half. Place two asparagus spears near the bottom of each rectangle and roll it up snugly like a cigar. Lightly spray the rolls with nonstick spray and place, seam-side down, on the baking sheet. Repeat with the remaining phyllo, nonstick spray, mustard, cheese, ham and asparagus to make a total of 12 rolls.
Bake until the rolls are lightly browned and crisp, 15 to€" 20 minutes. Let cool 5 minutes before serving.