Lighter Peach Shortcake
By
Bobby Deen
JUMP TO RECIPE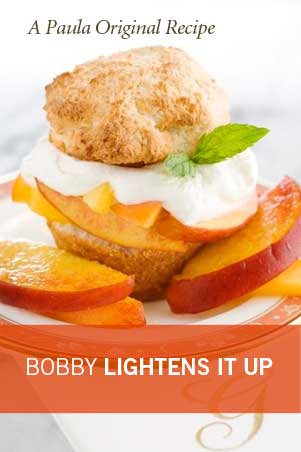 Difficulty: Easy
Prep time: 15 minutes
Cook time: 15 minutes
Servings: 15
Ingredients
2 cups reduced-fat baking mix
1/4 cup sugar
2/3 cup fat-free milk
6 ripe (about 1 3/4 lbs or 4 cups), cut into 1/2-inch slices peaches
1 cup fresh raspberries
1 zested lemon
1 cup thawed frozen fat-free whipped topping
Directions
Preheat the oven to 425 °F.
Combine the baking mix, 2 tablespoons of the sugar and milk in a large bowl until a soft dough forms.
Drop the dough, by heaping tablespoonfuls, onto a large ungreased baking sheet, making a total of 8 biscuits. Bake until the tops spring back when lightly pressed, 10-12 minutes. Transfer the shortcakes to a rack to cool slightly.
Meanwhile, combine the peaches, raspberries, the remaining 2 tablespoons sugar and lemon zest in a large bowl. Let stand, gently stirring occasionally, until the sugar dissolves, about 10 minutes.
Split the shortcakes. Place the bottom halves of the shortcakes on plates; top each with 1/3 cup peach mixture and 1 tablespoon whipped topping. Place the tops of the shortcakes, cut-side down, over the fruit and garnish each with the remaining 1 tablespoon whipped topping.
Test Kitchen Tip: For the very best flavor, make sure to use perfectly ripe summer peaches. Otherwise, frozen thawed peaches will work here too. Just be sure to drain them well, and pat dry with paper towels before using.