Lighter Never Fail Pound Cake
By
Deen Brothers
JUMP TO RECIPE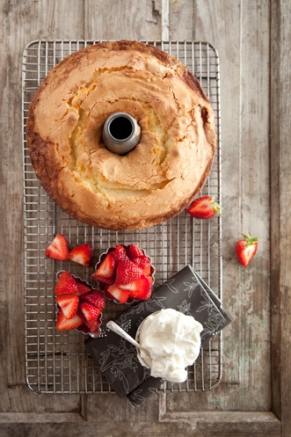 Difficulty: Medium
Prep time: 20 minutes
Cook time: 20 minutes
Servings: 20
Ingredients
3 cups cake flour
1 1/2 teaspoons baking powder
1/2 teaspoon salt
3 large eggs
1/2 cup fat-free milk
1/4 cup reduced fat sour cream
of one lemon lemon zest
1/2 cup (1 stick) softened butter
1/2 cup lemon curd
1 1/2 cups sugar
Directions
Preheat the oven to 325°F. Spray a 10-inch Bundt pan with nonstick spray.
Combine the flour, baking powder, and salt in a large bowl until blended; set aside. Whisk the eggs in a medium bowl until frothy. Whisk in the milk, sour cream, and lemon zest. With an electric mixer on medium speed, beat the butter and lemon curd until smooth and creamy, about 1 minute. Gradually add the sugar and beat until light and fluffy, about 2 minutes. Reduce the speed to low. Alternately add the flour mixture and the milk mixture, beginning and ending with the flour mixture and beating just until blended.
Scrape the batter into the pan. Bake until a toothpick inserted into the center comes out clean, 55 – 60 minutes. Do not overbake. Let cool in the pan on a rack 10 minutes. Remove the cake from the pan and let cool completely on the rack.