Lighter Mocha-Filled Eclairs
By
Deen Brothers
JUMP TO RECIPE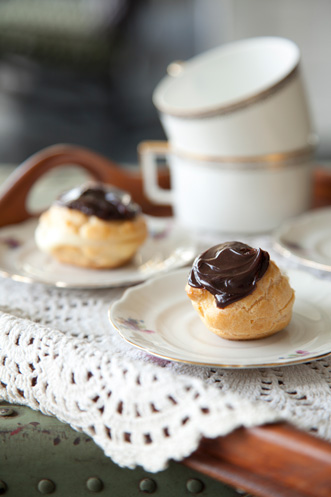 Difficulty: Medium
Prep time: 20 minutes
Cook time: 20 minutes
Servings: 20
Ingredients
1 cup water
1/4 cup unsalted butter
salt
1 cup all purpose flour
2 large eggs
1 egg white
1/4 cup granulated sugar
3 tablespoons unsweetened cocoa powder
2 teaspoons instant espresso coffee powder
1 1/2 cups fat-free milk
1 large egg
1/4 cup dark chocolate chips
1 teaspoon vanilla extract
1/4 cup thawed frozen fat-free whipped topping
for dusting confectioner's sugar
Directions
Preheat the oven to 400 °F. Line a large baking sheet with parchment paper.
To make the cream puff dough, bring the water, butter and salt to a boil in a medium saucepan. Stir in the flour all at once, and cook, stirring constantly with a wooden spoon, until the dough begins to pull away from the sides of the pan, about 2 minutes. Remove from the heat. Stir in the eggs and egg white, one at a time, beating well after each addition, until the dough is smooth and shiny. After each egg is added, the dough will separate, but with continued beating, it will stiffen and become smooth.
Spoon the dough into a pastry bag fitted with a large plain tip. Pipe the dough onto the baking sheet into twelve 3-inch strips, spacing the eclairs about 1-inch apart. Bake until golden, 30-"35 minutes. Let cool on the baking sheet about 5 minutes. With a serrated knife, split the eclairs in half lengthwise. With your fingers, pull out some of the soft dough from the centers. Transfer the eclairs to a wire rack to cool completely.
To make the filling, whisk together the granulated sugar, flour, cocoa powder, espresso powder, and salt in a medium saucepan. Whisk in the milk and egg and cook over medium heat, stirring constantly, until the mixture coats the back of a spoon, about 5 minutes. Do not boil or the mixture may curdle. Remove from the heat and stir in the chocolate chips and vanilla. Scrape the filling into a medium bowl. Place a piece of plastic wrap onto the surface to prevent a skin from forming; refrigerate until the custard is cooled completely, about 40 minutes. Gently fold in the whipped topping.
Spoon about 2 tablespoons of the filling onto the bottom half of each shell. Replace tops and dust with confectioners'€™ sugar. Serve at once or within 2 hours.