Lighter Mini Macaroni Pies
By
Deen Brothers
JUMP TO RECIPE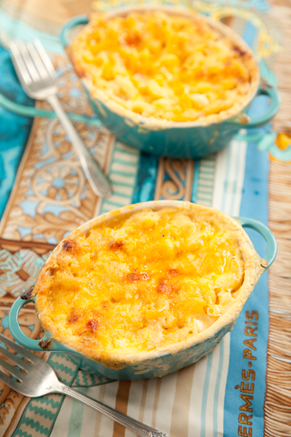 Difficulty: Medium
Prep time: 15 minutes
Cook time: 15 minutes
Servings: 15
Ingredients
1 1/2 cups (about 35 crackers), crushed buttery crackers
2 1/2 cups (10 oz), grated cheddar cheese
4 tablespoons (1/2 stick) melted, plus 2 tablespoons of cold butter, cut into pieces unsalted butter
4 1/2 cups cooked drained and kept hot elbow macaroni
2 large beaten eggs
1/2 cup milk
1/4 cup sour cream
1/4 teaspoon salt
Directions
Preheat the oven to 350º. Lightly grease 8 cups of a 12-cup muffin pan.
In a bowl, combine the crackers, 1 cup of the cheddar cheese, and the melted butter. Divide the mixture among the prepared muffin cups and press firmly in the bottom and up the sides of the cups.
In a large bowl, mix the macaroni with ½ cup of the cheddar cheese. In a small bowl, combine the eggs, milk, sour cream, cold butter pieces, and salt. Stir the milk mixture into the macaroni.
Spoon 2 tablespoons of the macaroni mixture into each cracker crust and top with the remaining cheddar cheese. Bake for about 25 minutes, or until the cheese is browned and slightly crispy. Allow the pies to cool slightly before unmolding and serving warm.