Lighter Hash Brown Quiche
By
Deen Brothers
JUMP TO RECIPE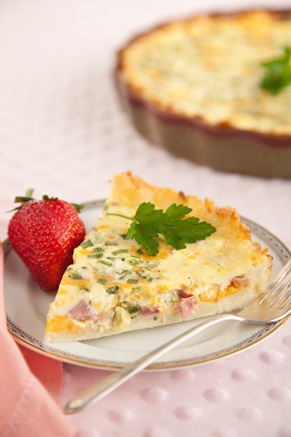 Difficulty: Easy
Prep time: 5 minutes
Cook time: 5 minutes
Servings: 5
Ingredients
1 tablespoon olive oil
1 finely chopped onion
1 (8 oz) package sliced cremini mushrooms
1 cup refrigerated shredded hash browns
1/2 cup diced cooked ham
1 cup reduced fat milk
3 large eggs
1/4 cup half and half
3 thinly sliced scallions
1/4 teaspoon salt
1 pinch ground nutmeg
2/3 cup shredded reduced fat cheddar cheese
Directions
Preheat the oven to 375 °F. Spray a 9-inch round quiche dish or pie plate with cooking spray.
Heat the oil in a large nonstick skillet over medium-high heat. Add the onion and mushrooms and cook, stirring occasionally, until tender, 6 to 8 minutes. Add the potatoes and ham and cook, stirring occasionally, until the potatoes are tender, about 10 minutes. Spread the mixture into the prepared dish.
Whisk together the milk, eggs, half-and-half, scallions, salt and nutmeg in a large bowl until blended. Stir in the cheese. Pour evenly over the potato mixture. Bake until the top is golden and a knife inserted into the center comes out clean, about 25 minutes.