Lighter Creme de Menthe Brownies
By
Deen Brothers
JUMP TO RECIPE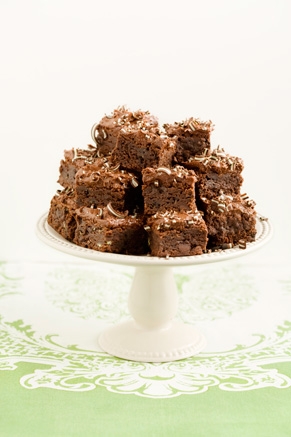 Difficulty: Easy
Prep time: 15 minutes
Cook time: 15 minutes
Servings: 15
Ingredients
3/4 cup all purpose flour
3/4 teaspoon baking powder
1/4 teaspoon salt
1/2 cup unsweetened cocoa
2 teaspoons instant coffee granules
2 large eggs
1 teaspoon vanilla extract
1/2 cup granulated sugar
1/4 cup packed light brown sugar
4 tablespoons melted butter
2 tablespoons hot water
16 pieces (1/2 cup) coarsely chopped creme de menthe thins candy
1/2 cup semisweet chocolate chips
1/4 cup fat free half and half
Directions
Preheat the oven to 350 °F. Line the bottom and sides of an 8-inch square baking pan with aluminum foil, allowing 2 to 3 inches to extend over sides; lightly spray the foil with nonstick spray.
Combine the flour, baking powder and salt in a small bowl. Combine the cocoa and coffee granules in another small bowl. Whisk the eggs and vanilla in large bowl. Whisk in the granulated sugar, brown sugar, melted butter and hot water until well mixed. Add the cocoa mixture, whisking until blended. Stir in the flour mixture, then the chopped candy, until blended.
Scrape the batter into the pan; spread evenly. Bake until a toothpick inserted two inches from the side of the pan out with moist crumbs clinging, about 20 minutes. Do not overbake. Cool in the pan on a rack 20 minutes. Lift the brownies from pan, using foil sides as handles. Gently remove the foil. Cool at least 1 hour.
To make the glaze, combine the chocolate chips and half-and-half in a small microwavable bowl. Microwave on High for 45 seconds, stirring, until the mixture is melted and smooth. Let the glaze cool 10 minutes or until thickened. Spoon the glaze over the brownies. Cool until the glaze is set, at least 30 minutes. Cut into 16 squares.