Lighter Country Ham and Red-Eyed Gravy
By
Deen Brothers
JUMP TO RECIPE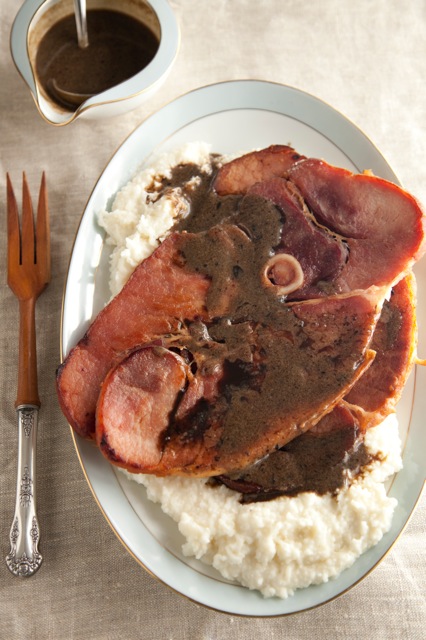 Difficulty: Easy
Ingredients
1 about 1 1/2 pounds bone-in low-sodium fully-cooked ham steak
1 teaspoon butter
1 teaspoon all purpose flour
1/2 cup strong brewed coffee
1/4 cup beef broth
1 teaspoon packed light brown sugar
4 cups water
1 cup quick cooking grits
1/4 teaspoon salt
Directions
Spray a large nonstick skillet with nonstick spray and set over medium-high heat. Add the ham and cook 4 minutes. Turn and cook until the ham is browned and heated through, about 4 minutes longer. Transfer to a plate.
Add the butter to the skillet and heat over medium heat. Stir in the flour; cook 1 minute. Whisk in the coffee, broth, and sugar; bring to a boil. Reduce the heat and simmer, stirring, until the sauce begins to thicken slightly, about 1 minute. Return the ham to the skillet; heat through.
Meanwhile, to make the grits, bring the water to a boil in a medium saucepan. Slowly whisk in the grits and salt. Reduce the heat and simmer, covered, stirring occasionally, until thickened, about 5 minutes. Remove from the heat. Serve with the ham.