Lighter Chicken and Dumplings
By
Deen Brothers
JUMP TO RECIPE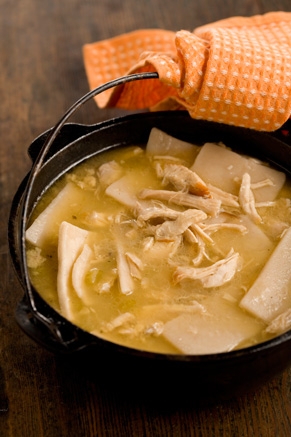 Difficulty: Easy
Prep time: 15 minutes
Cook time: 15 minutes
Servings: 15
Ingredients
8 skinless, boneless, and trimmed of all fat chicken thighs
1/2 teaspoon salt
2 teaspoons canola oil
1 chopped Vidalia onion
1/2 lb sliced cremini mushrooms
2 chopped carrots
2 ribs chopped celery
2 tablespoons all purpose flour
3 cups reduced-sodium chicken broth
1 cup frozen peas
1 2/3 cup reduced-fat buttermilk baking mix
2/3 cup fat-free milk
1 tablespoon chopped fresh parsley
Directions
Sprinkle the chicken with the salt. Heat the oil in a nonstick Dutch oven over medium-high heat. Add the chicken and cook, turning occasionally, until browned, about 5 minutes.
Transfer the chicken to a plate.
Add the onion, mushrooms, carrots, and celery to the Dutch oven. Cook, stirring occasionally, until the vegetables begin to soften and brown lightly, about 8 minutes. Stir in the flour and cook, stirring constantly, 1 minute. Return the chicken and any of its juices to the Dutch oven. Add the broth; bring to a boil. Reduce the heat and simmer, covered, until the chicken is cooked through, about 15 minutes. Stir in the peas.
Meanwhile, to prepare the dumplings, combine the baking mix, milk, and parsley in a medium bowl until a soft dough forms.
Drop the dough by tablespoons onto the simmering stew. Reduce the heat and simmer, uncovered, 10 minutes. Cover and simmer until the dumplings have doubled in size and are cooked through, about 10 minutes longer.