Lighter Broccoli Mac and Cheese
By
Deen Brothers
JUMP TO RECIPE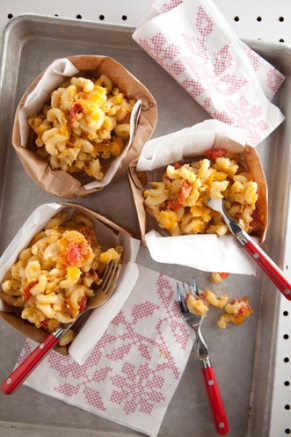 Difficulty: Easy
Ingredients
1 1/2 cups whole wheat elbow macaroni
2 cups small florets broccoli
1 cup reduced-fat cottage cheese
2 tablespoons whole-wheat bread crumbs
2 tablespoons grated grated Parmesan cheese
2 tablespoons chopped fresh parsley
2 teaspoons plus 1 tablespoon olive oil
1 1/2 tablespoons all purpose flour
3/4 teaspoon dry mustard
1/2 teaspoon paprika
1/2 teaspoon salt
1 1/2 cups fat-free milk
1 cup shredded extra sharp cheddar cheese
2 diced tomatoes
Directions
Preheat the oven to 375 °F. Spray an 8 x 8-inch baking dish with nonstick spray.
Cook the pasta according to package directions (omitting the salt) and adding the broccoli during the last 3 minutes of cooking time. Drain and rinse under cold running water.
Meanwhile, puree the cottage cheese in a food processor until smooth. Combine the bread crumbs, cheese, parsley and 2 teaspoons of the oil in a small bowl until well mixed; set aside.
Heat the remaining 1 tablespoon oil in a large saucepan over medium-high heat. Whisk in the flour, dry mustard, paprika and salt until smooth. Gradually whisk in the milk and bring to a boil. Cook, whisking constantly, until the sauce is thickened and smooth, about 5 minutes. Remove from the heat. Whisk in the cottage cheese and Cheddar cheese until blended and smooth. Stir in the pasta, broccoli and half of the tomatoes. Pour into the prepared baking dish. Sprinkle the remaining tomatoes evenly over top and top evenly with the crumb mixture.
Bake until the edges are bubbly and the topping is browned, 20 to€" 25 minutes. Let stand 10 minutes before serving.