Lemon Honey-Almond Tea Cakes
By
Deen Brothers
JUMP TO RECIPE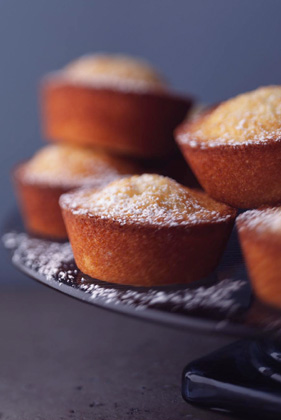 Featured in:
The Deen Bros. Recipes from the Road
Difficulty: Easy
Servings: 12 mini cakes
Ingredients
1 2/3 cups confectioners' powdered sugar plus additional for dusting
1/2 cup plus 1 tablespoon all-purpose flour
1/2 cup almond flour
6 large egg whites
13 tablespoons unsalted butter
1 tablespoon honey
Finely grated zest of 1 lemon
1 teaspoon freshly squeezed lemon juice
Directions
Grease a 12-cup muffi n tin; set aside. In a bowl, combine the sugar, all-purpose flour, and almond flour. In the bowl of an electric mixer, whisk the egg whites until frothy. Slowly whisk in the sugar mixture. Whisk in the melted butter, the honey, lemon zest, and lemon juice.
Divide the batter among the muffin cups. Refrigerate for 1 hour.
Preheat oven to 375F. Bake for 15 to 17 minutes or until dark golden around the edges and fi rm to the touch. Immediately remove the cakes from the muffin tin and transfer to a wire rack to cool. Dust cakes with additional confectioners' sugar just before serving.