Lemon Chicken with Artichokes
By
Paula Deen
JUMP TO RECIPE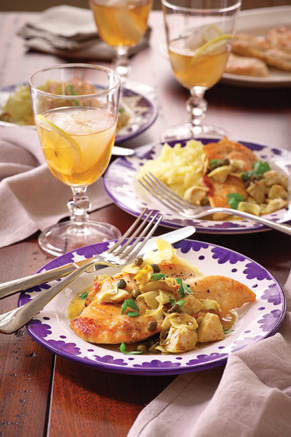 Difficulty: Easy
Ingredients
1 1/2 lbs (about 3) boneless skinless chicken breasts
1 teaspoon salt
1/2 teaspoon freshly ground black pepper
1/4 cup all purpose flour
2 tablespoons olive oil
1/2 cup low sodium chicken broth
1 tablespoon plus more to taste fresh lemon juice
1 can (14 oz) drained and coarsely chopped artichoke hearts
2 teaspoons drained, optional capers
1 tablespoon unsalted butter
for serving chopped fresh basil
Directions
Slice each chicken breast in half horizontally (you should now have about 6 thin pieces of chicken). In a shallow bowl or pie plate, whisk together the salt, pepper, and flour. Dip the chicken pieces in the seasoned flour to coat all over. Gently shake each piece to remove the excess.
In a large skillet, heat the oil over medium-high heat. Add the chicken, in batches if necessary, and cook without moving, until golden, 2-3 minutes. Flip and cook until no longer pink, 2-3 minutes more. transfer the chicken to a plate and cover with aluminum foil to keep warm.
Add the chicken broth and lemon juice to the skillet and give the bottom of the skillet a good scrape to pick up any brown bits stuck to the bottom. Simmer until bubbling, 3-4 minutes. Stir in the artichokes and capers (if using) and cook for 1 minute. Swirl in the butter. give the sauce a taste and add more lemon juice if you think it needs it. Spoon the sauce over the chicken and sprinkle with basil before serving.