Lemon Bars
By
Paula Deen
JUMP TO RECIPE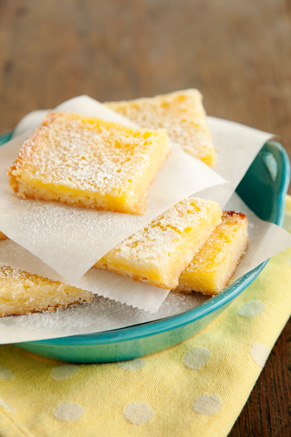 Difficulty: Easy
Prep time: 10 minutes
Cook time: 10 minutes
Servings: 10
Ingredients
2 cups for crust, plus 6 tablespoons for filling all purpose flour
1 cup plus more for dusting confectioner's sugar
pinch of salt
2 sticks at room temperature, plus more for greasing butter
4 eggs
2 cups granulated sugar
6 tablespoons fresh lemon juice
Directions
Preheat the oven to 350 °F. Lightly grease 9x13x2-inch pan.
Make the crust by combining 2 cups flour, confectioner's sugar, and salt in a large bowl. Cut in the butter to make a crumbly mixture. Press the mixture into the prepared pan. You may need to dip your fingers into a little flour or confectioner's sugar to keep the dough from sticking to your fingers. Bake for 15-20 minutes.
Meanwhile, to make the filling, mix the eggs, granulated sugar, 6 tablespoons flour and lemon juice. Pour this over the baked crust and bake for 25 minutes longer. Sprinkle with confectioners' sugar, if desired, when the bars are done.