Jamie's Salad With Maple Red Wine Vinaigrette
By
Jamie Deen
JUMP TO RECIPE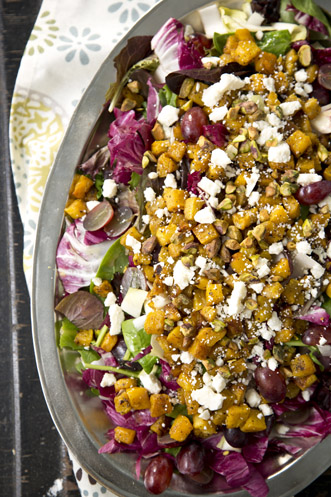 Difficulty: Easy
Prep time: 10 minutes
Cook time: 30 minutes
Servings: 10
Ingredients
1 small (1.5-lb) butternut squash, peeled and diced
3 tablespoons olive oil, plus more for drizzling
salt
freshly ground black pepper
2 tablespoons red wine vinegar
1 tablespoon maple syrup
1 teaspoon dijon mustard
1 shallot, minced
2 cups spring mix
1/2 head radicchio, leaves torn into bite-size pieces
1 Belgian endive, sliced
1 cup seedless red grapes, sliced in half
1/2 cup salted and roasted pistachios, chopped
1/2 cup feta cheese, crumbled
Directions
Preheat the oven to 400 °F.
Place the squash on a baking sheet and drizzle with olive oil. Toss and sprinkle with salt and pepper. Roast for 30 minutes, flipping once halfway through.
Using a glass jar with a tight lid, combine the olive oil, vinegar, maple syrup, Dijon, shallots and a pinch of salt. Shake well to combine.
In a large salad bowl, combine the squash, spring mix, radicchio, endive, grapes, pistachios and feta cheese. Top with the salad dressing and serve.