Huevos Rancheros
By
Paula Deen
JUMP TO RECIPE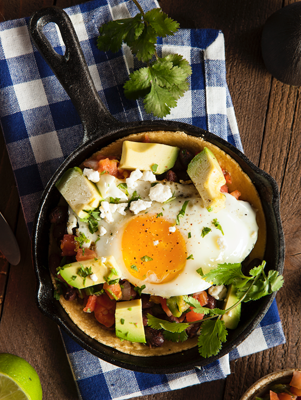 Difficulty: Easy
Prep time: 15 minutes
Cook time: 15 minutes
Servings: 4
Ingredients
1 (15 oz) can undrained whole peeled tomatoes
1/4 cup diced yellow onion
1/4 cup plus more for garnish fresh cilantro
1 large clove garlic
1 seeded if desired jalapeño
1/2 teaspoon salt
5 oz casings removed, diced chorizo
vegetable oil
4 (6 in) plus more for serving, optional corn tortillas
1 (16 oz) can optional refried beans
4 eggs
1 pitted, peeled and diced, for garnish avocado
3/4 cup (3 oz) crumbled or grated Monterey Jack, (for serving) queso fresco
for serving sour cream
Directions
In a food processor, combine the tomatoes (with juices), onion, cilantro, garlic, jalapeño and 1/2 teaspoon salt; puree until smooth. Transfer mixture to a small skillet and simmer over medium heat until slightly thickened, about 10 minutes. Cover and keep warm over low heat.
In a large skillet over medium-high heat, cook the chorizo until browned. Add to the sauce and cover again.
Add 1 tablespoon vegetable oil to the fat in the large skillet. Place a tortilla in the skillet and cook until light golden but not crisp, about 30 seconds. Flip and cook for 30 seconds more. Transfer to an individual plate. Cook the remaining tortillas, adding a bit more oil to the pan, if necessary.
Heat the refried beans (if using) in a large skillet. Spread the beans on the tortillas.
Add another tablespoon of oil to the skillet. Working in batches, crack the eggs into the pan. Cook until the bottoms are set and the edges golden, 1 to 2 minutes. Turn the heat to medium-low, cover, and cook until set, about 1 minute more. Place one egg on each tortilla and spoon the warm sauce over the eggs. Sprinkle with the avocado, cheese, and additional cilantro. Top with a dollop of sour cream.