Hot Tomato Tart Appetizers
By
Paula Deen
JUMP TO RECIPE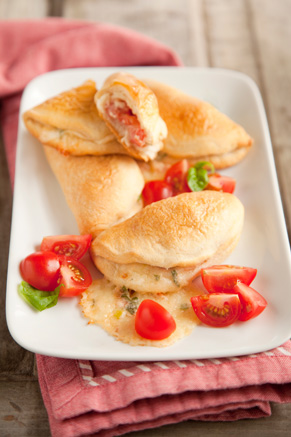 Difficulty: Easy
Prep time: 15 minutes
Cook time: 15 minutes
Servings: 15
Ingredients
2 cups fresh diced tomatoes
1/3 cup diced green onions
1/2 teaspoon salt
1/4 teaspoon black pepper
1 tablespoon or thyme, chopped, optional fresh basil
1 cup shredded Jack cheese
1/2 cup mayonnaise
1 (12 oz) can 10 count refrigerated biscuits
Directions
Mix together tomatoes, green onions, salt, pepper and basil together. Place in a colander to drain off excess juice. Mix shredded cheese and mayonnaise together. Fold into tomato mixture.
Pinch each biscuit in half. On a lightly floured surface roll each piece into a circle approximately 3 to 4 inches in diameter. Spoon about 2 teaspoons of tomato mixture in the center of the biscuit. Moisten the edge of the biscuit with you finger using a drop of water. Fold over and press firmly using fingertips to seal entire edges.
Place on a greased baking sheet. Bake in a preheated 375 °F oven for 12 to 15 minutes or until golden brown. Remove from oven and brush with melted butter, sprinkle with fresh chopped parsley. Serve immediately.