Honey Lemon Pots de Creme
By
Paula Deen
JUMP TO RECIPE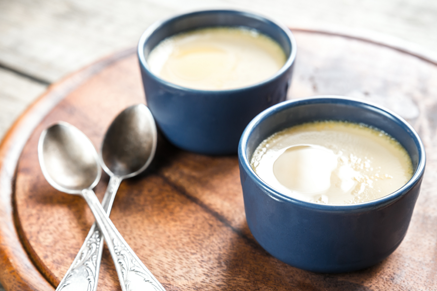 Difficulty: Easy
Prep time: 20 minutes
Cook time: 20 minutes
Servings: 20
Ingredients
1 1/2 cups (375ml) heavy cream
6 large egg yolks
1/3 cup honey
2 to 3 juiced and zested. You'll need 1/4 cup or 60ml of juice lemon
pinch salt
Directions
Preheat oven to 325º and position a rack in the center. Place your ramekins in a heavy deep pan and set aside.
In a medium saucepan, bring the heavy cream to a simmer. Turn the heat off but keep the cream warm.
In a large bowl, whisk together the egg yolks and honey for a couple of minutes. Add the lemon juice and salt and whisk until smooth. Slowly pour the heavy cream over the egg yolk mixture, whisking well. Let stand for a couple of minutes to let any foam rise to the top, skim it off and divide the mixture among your ramekins. Pour hot water inside the pan, making sure the water comes at least halfway up the sides of your dishes. Bake for 20 to 30 minutes.
Serve with madeleines or your favorite tea cookies.