Hobo Burger Packets
By
Paula Deen
JUMP TO RECIPE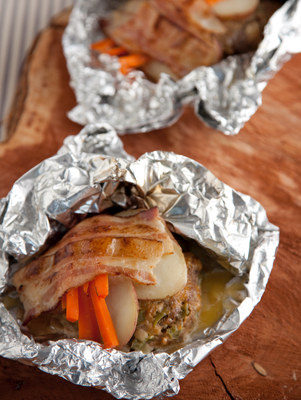 Difficulty: Easy
Prep time: 7 minutes
Cook time: 7 minutes
Servings: 7
Ingredients
1 1/2 lbs ground beef
1/2 cup crumbled butter crackers
1 large beaten egg
3 cloves chopped garlic
1 tablespoon Worcestershire sauce
3/4 cup grated sharp cheddar cheese
4 medium thinly sliced red potatoes
1 medium thinly sliced Vidalia onion
3 medium peeled and cut into 1/4-inch rounds carrots
to taste kosher salt
to taste freshly ground black pepper
1 tablespoon olive oil
Directions
Preheat oven to 350 °F. In a large bowl, mix together beef, cracker crumbs, egg, garlic, Worcestershire, cheese, salt and pepper.
Pat the mixture into 4-6 (6-inch) patties. Place each patty onto 2 layers of heavy-duty aluminum foil, enough to cover and close.
Add potatoes, onion, and carrots to the same bowl and drizzle with 1 tablespoon of olive oil and season with a pinch of salt and pepper, tossing to combine.
Top each patty with an equal portion of the vegetable mixture then seal each packet tightly. Place on a sheet tray and bake for 40 minutes, until the burger is cooked through and the vegetables are soft.