Healthier Mac and Cheese
By
Paula Deen
JUMP TO RECIPE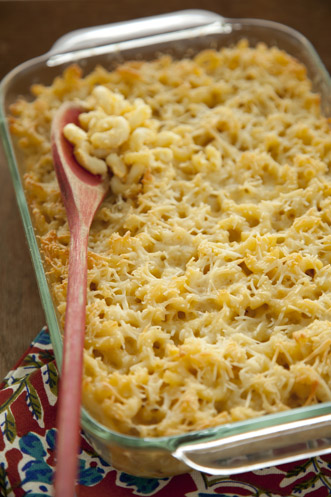 Difficulty: Easy
Prep time: 10 minutes
Cook time: 10 minutes
Servings: 10
Ingredients
2 cups (8 oz) or regular macaroni whole wheat elbow macaroni
2 cups (8 oz) reduced fat cheddar cheese
1/2 cup low-fat evaporated milk
2 large lightly beaten eggs
1/4 cup reduced fat sour cream
1 tablespoon dijon mustard
1/2 teaspoon salt
1/4 teaspoon cayenne pepper
1/3 cup grated Parmesan cheese
Directions
Preheat the oven to 350 °F. Coat a 13×9 inch baking dish with cooking spray.
In a large pot of boiling salted water, cook the macaroni according to the package directions. Drain well and transfer the pasta to a large bowl. Add the cheddar cheese and stir until the pasta is coated and the cheese has melted.
In a medium bowl, whisk together the evaporated milk, eggs, sour cream, mustard, salt and cayenne pepper. Add the milk-egg mixture to the macaroni and cheese and stir well to combine. Scrape the mixture into the prepared baking dish and sprinkle the Parmesan evenly over the top. Bake until golden brown and crispy around the edges, 35 to 40 minutes.