Gussie's Fried Chicken
By
Paula Deen
JUMP TO RECIPE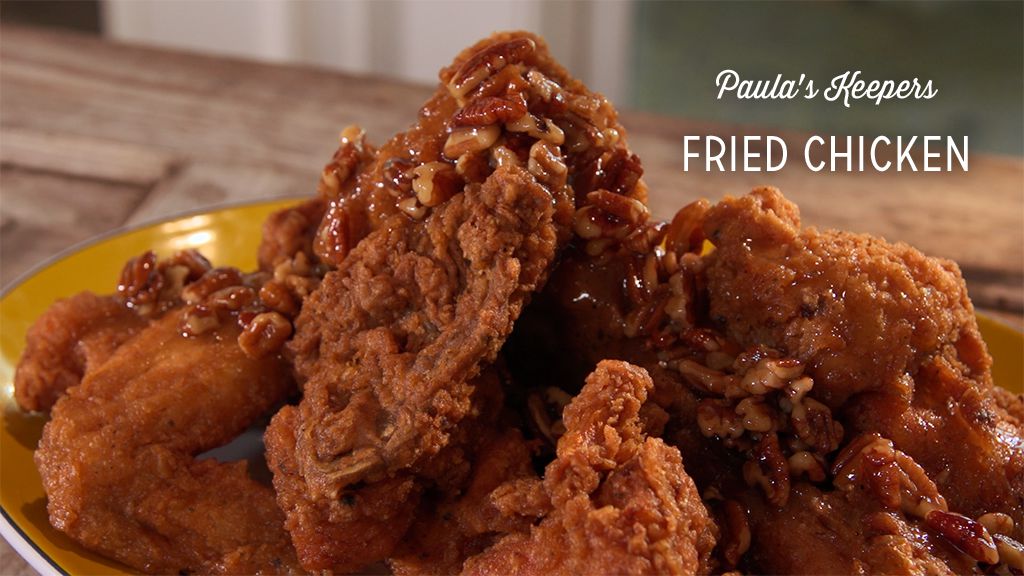 Difficulty: Medium
Prep time: 15 minutes
Cook time: 15 minutes
Servings: 15
Ingredients
for frying peanut oil
1 tablespoon Paula Deen House Seasoning
4 large eggs
3/4 cup hot red pepper sauce
1 (2 1/2 lb) cut into 8 pieces chicken
2 1/2 cups self rising flour
1 teaspoon plus more to taste kosher salt
1/2 teaspoon freshly ground, plus more to taste black pepper
to taste garlic powder
2 sticks butter
1/2 cup honey
1/2 cup coarsely chopped pecans
Directions
Heat deep fryer to 350 °F.
Sprinkle the chicken all over with Paula Deen House Seasoning, salt and pepper. Beat the eggs and hot sauce together. Add flour to a casserole dish. Working in batches, add the chicken to the egg mixture, let excess drip off, then toss through the flour making sure it's well coated.
Fry the chicken until cooked though and golden brown. White meat pieces should take roughly 8-10 minutes and dark meat will take 13-14 minutes.
For the glaze: In a medium saucepan over low heat, melt the butter. Whisk in the honey and blend well. Bring to a simmer and add the pecans. Simmer for 15 minutes, stirring occasionally. Ladle the glaze over hot fried chicken.