Grilled Turkey Reuben
By
Paula Deen
JUMP TO RECIPE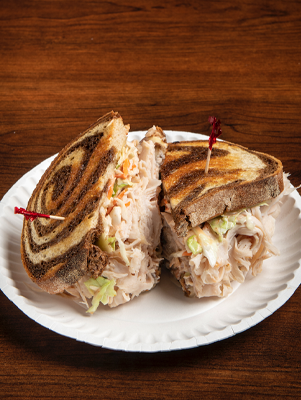 Difficulty: Easy
Prep time: 10 minutes
Cook time: 10 minutes
Servings: 10
Ingredients
2 tablespoons plus 1/3 cup, softened butter
1 (10 oz) package angel hair coleslaw mix
1 tablespoon distilled white vinegar
1/2 teaspoon salt
1/2 teaspoon optional sugar
1/4 teaspoon ground black pepper
8 slices marble rye bread
thousand island dressing
3/4 lb thinly sliced deli turkey
4 slices Swiss cheese
Directions
Preheat a nonstick skillet over medium heat.
In a large skillet, melt 2 tablespoons butter over medium heat. Add the coleslaw, vinegar, salt, sugar and pepper. Cook until the coleslaw is wilted, stirring frequently, 5 minutes.
Spread each slice of the marble rye with Thousand Island dressing. Layer the turkey evenly over half of the bread slices; top each with 1 slice Swiss cheese. Spoon the coleslaw mixture evenly over the cheese. Cover with the remaining bread slices, dressing-side down. Spread softened butter over the bottom and top slices of each sandwich. Grill the sandwiches until golden brown, 4 to 5 minutes per side. Serve immediately.