Grilled Portobello Mushroom Burgers With Dill-Mustard Sauce
By
Paula Deen
JUMP TO RECIPE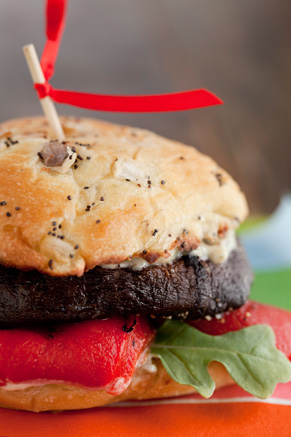 Difficulty: Easy
Prep time: 10 minutes
Cook time: 10 minutes
Servings: 10
Ingredients
6 to 8 portobello mushroom caps
1 cup caesar vinaigrette salad dressing
6 to 8 slices havarti cheese
6 to 8 hamburger buns
softened, optional butter
1 cup mayonnaise
1 tablespoon dijon mustard
1 tablespoon minced fresh dill
1 tablespoon minced fresh parsley
1 teaspoon minced garlic
Directions
Using a spoon, scrape and discard the brown gills from the undersides of the mushrooms.
In a large resealable plastic bag, combine the mushrooms and salad dressing. Seal the bag, and turn to coat the mushrooms. Place in the refrigerator and marinate for at least 1 hour or up to 2 hours.
Drain the mushrooms, discarding the marinade. Preheat the grill to medium-high heat (350 to 400 °F). Spray the grill rack with cooking spray. Grill the mushroom caps, covered with the grill lid, until tender, 3 to 4 minutes per side. Top each with a slice of cheese. Spread the cut sides of the buns with butter if desired. Place the buns cut-sides down on the grill rack. Grill, covered with the lid, until toasted. Remove from the grill, and spread evenly with Dill-Mustard Sauce. Top with grilled mushrooms and desired toppings. Serve immediately.
Dill-Mustard Sauce:
In a small bowl, stir together the mayonnaise, mustard, dill, parsley and garlic. Cover and chill for up to 3 days.
Toppings: lettuce leaves, sliced tomato, sliced red onion, sliced pickles